WDSU-TV ON AIR CELEBRITIES
Page 3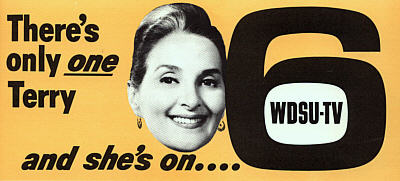 Terry Flettrich - "Mrs. Muffin"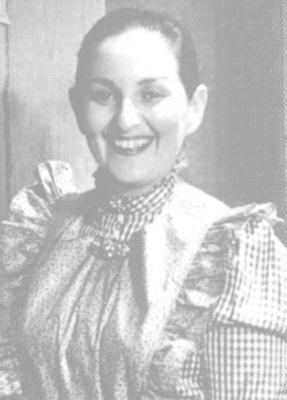 Were you ever on the "Mrs. Muffin's Birthday Party" television program? It seems that many of the VIPs of 2002 once appeared as children on Terry Flettrich's kiddie show of the early 50s. At her 85th birthday party, the "Cottage" was re-created on the stage of N. O. C. C. A. Riverfront. Many of those VIPs were there to help terry celebrate her birthday. One of those VIPs who once sat on Mrs. Muffin's lap was the principal of N. O. C. C. A. and yes, he did sit on Mrs. Muffin's lap at the party!

Terry was born in Singapore of Russian parents. In New Orleans she was employed by D. H. Holmes Department Store. She was married to the fine New Orleans artist Leonard Flettrich.Her association with WDSU began when she hosted a D. H. Holmes radio show, "Helen Holmes" live from the WDSU studios in the Monteleone Hotel. She also co-hosted, with WDSU announcer Mike Virges, "Ladies at Lunch", a radio show that originated in the Holmes store.

Terry started doing television shows for Channel 6 BEFORE the station signed on the air! The new facility's crews were learning how to produce live TV shows in regular sessions at the D. H. Holmes Department Store an Werlein's For Music Store, both of which once graced New Orleans Canal Street. The practice sessions went on for months before the first TV program in New Orleans aired on Dec. 18, 1948. At many of the practce sessions, Terry was the writer, producer and on camera talent.

Soon after the move to the WDSU-TV Royal Street studios, Terry and her good friend, Suzi Fontaine, producer of the Ch.6 kiddie show "Telekids", teamed up to present the Mrs. Muffin programs that originated in the new Royal Street studios in 1950 and continued until 1957. Many of the important people of this area today made an appearance as a child.


Mrs. Muffin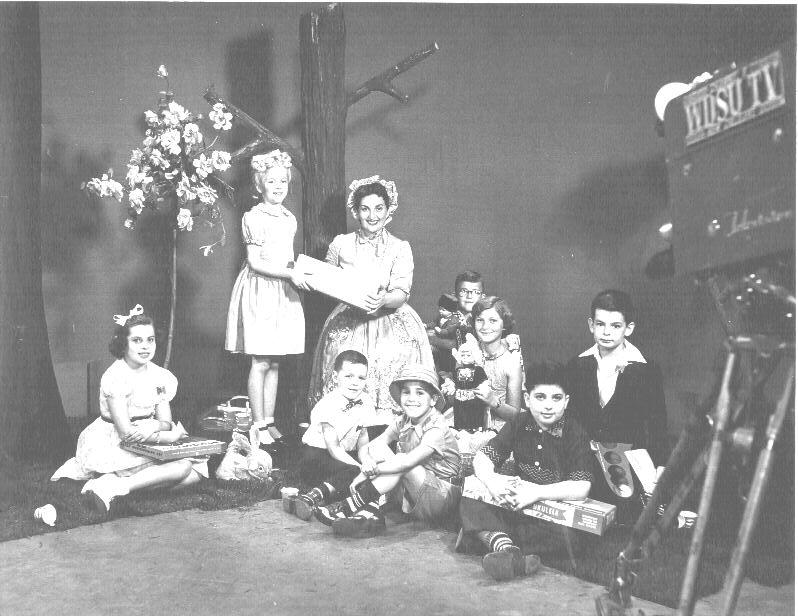 "Mrs. Muffin's Birthday Party"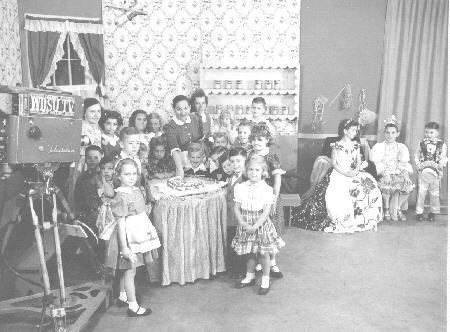 Terry eventually became the hostess of the New Orleans (and surrounding areas) most watched television program, "Midday", an electronic magazine program and one of the first of it's kind in the country. It was said that bank presidents and other VIPs went home for lunch just so they could watch "Midday". She was a very popular attraction of the Channel 6 Caravans, the parade of Channel 6 celebrities that visited many of the towns in the Louisiana and Mississippi coverage area of WDSU-TV. Terry was honored by her induction into the GNOBA Hall of Fame in 1993.


Terry Flettrich - "Midday" hostess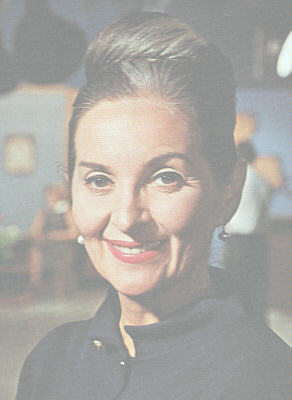 Wayne Mack talks to the ladies of the Midday on-camera audience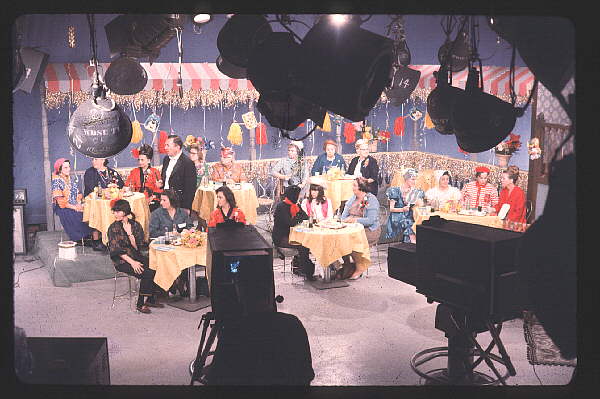 Krewe of "Midday"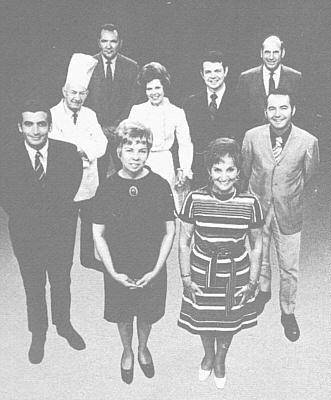 The picture above shows the on-air celebrities of the "Midday" program. Up front are Steve Summers (Steve later dropped the screen name "Summers" in favor of his real name, Schift), Iris Kelso, Terry Flettrich and Al Shea.

In the middle are Chef Paul of Brennan's Restaurant, Jan and Bob Carr.

Behind them are Wayne Mack and Nash Roberts.

The "Midday" celebs were backed up by a krewe (that's New Orleans for "crew") of talented people you may seldom or never have seen on the screen, but the program coudn't air without the work of the people shown in the picture below.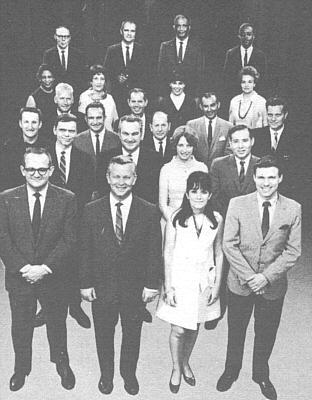 In the front row are Director Irwin Poche', Program and Production Director Jerry Romig, Productio Assistant Ellen Hardeman, and Assistant Director Reggie Hendry.

Behind them are Asst. Chief Engineer Lowell Otto, Engineer/Film Editor Frank Gurtner and News Director Ed Planer.

In the next row are Engineer/Audioman Bert Reimer, Cameraman George Cuccia, Cameraman Sid Ettinger and Cameraman Bill Laughlin.

The next row shows Engineer/Videotape operator Ray Horton, Cameraman Alvin Kampen and News Cinematographer Mike Lala.

In the next row are Chef's Assistant Marie Mathews, Switchboard Operator Anna Adragna, Music Librarian Betty "Boo" Gassen and Production Secratary Irma Kirschberg.

The last row shows Film Archivist and Processor Don Perry, Set Designer/ Graphic Artist Stan Rames, Scenery/Prop Asst. Cleostophas Bell and Scenery/Prop Manager Alvin "The Bird" Birdlow. "Midday" Still Photographer Mike Podgurski was out on assignment when the above photogragh was made by an outside contract photographer.

These 23 members of the "Krewe of Midday" were backed up by the entire Engineering, News, and Administrative Departments.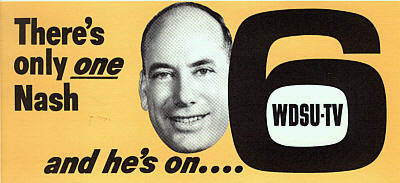 Nash Roberts - First full-time television Weathercaster in the Deep South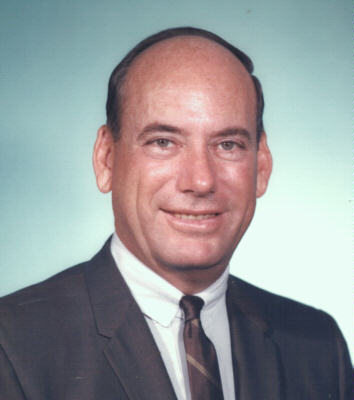 Long before Weather forecasters got to be television celebrities, Nash Roberts was forecasting weather conditions for areas as far away as the Gulf of Tonkin for his clients. It was said that no banana boat left South America without Nash's blessing, or rather, his forecast. Oil companies contracted Nash's company to get information about taking their crews off of their oil rigs in the Gulf of Mexico during hurricane seasons.

The Nash Roberts forecasting accuracy was introduced to the TV screens of New Orleans soon after Ch 6 signed on the air and continued on WDSU-TV for over a quarter of a century in the 5PM, 6PM aand 10PM news programs as well as the "Midday" program. On the rare days when Nash was not available to do his weather program, his brother, Ep Roberts, also a professional meteorologist filled in. Another expert in the weather forecasting business, John Cordero, a member of the Roberts weather forecasting organization, filled in when neither of the Roberts brothers were available.

When the Edgar Stern sold WDSU AM-FM-TV Nash continued his weathercasts first on WVUE Channel 8 and later on WWL-TV Channel 4.

The people in New Orleans and the surrounding areas never said: "I wonder what the weather will be like." Instead, they asked: "What does Nash say?" When Nash finally retired from the broadcasting scene, he left several TV weathermen and their fancy radar and electronic presentations battling to assume his title and position as THE weather authority for the Gulf South. Nash Roberts was inducted into the GNOBA Hall of Fame in 1994.



Ep Roberts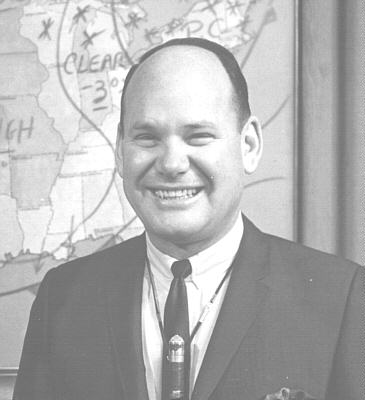 Nash's brother, Ep Roberts, not only filled in sometimes for Nash but also did the forecasting chores on the Ch. 6 "Breakfast Edition". He shared the early morning TV screen with the amiable Bill Stanley. When EP was not on the air he kept busy selling various scientific equipment in his instrument store.



Tiger Flowers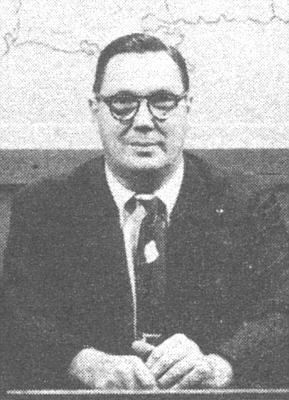 At this time, we still don't know how Mr. Flowers acquired the name "Tiger" and whether it is a nickname or a real name. Tiger was an all-around, experienced announcer. He was both a radio and a television personality and was equally at ease reporting news or sports events. Tiger also did his share of "booth" announcing for Channel 6.



Harry Woods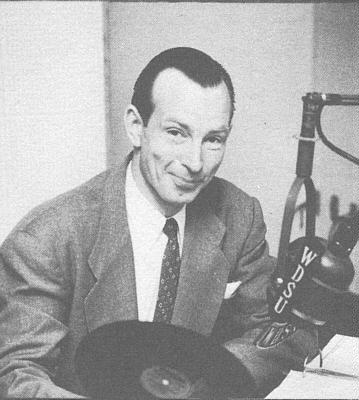 Harry Woods was another of the fine announcers who were heard on both WDSU radio and WDSU-TV.




GO TO WDSU-TV ON AIR PAGE 4

RETURN TO WDSU-TV ON AIR PAGE 2

GO TO WDSU-TV ON AIR PAGE 1
GO TO WDSU-TV ON AIR PAGE 5
GO TO WDSU-TV ON AIR PAGE 6
GO TO WDSU-TV ON AIR PAGE 7

GO TO WDSU-TV PERSONNEL Page 1
GO TO WDSU-TV PERSONNEL Page 2
GO TO WDSU-TV PERSONNEL Page 3

GO TO WDSU-TV MEMBERS OF THE GNOBA HALL OF FAME

GO TO WDSU Page 1
GO TO WDSU Page 2
GO TO WDSU Page 3
GO TO WDSU Page 4

RETURN TO BROADCAST ARTS MUSEUM

For more New Orleans radio and television memories:
GO TO "NEW ORLEANS RADIO AND TV SHRINE"