WDSU-TV ON AIR CELEBRITIES
Page 6

Dick VanDyke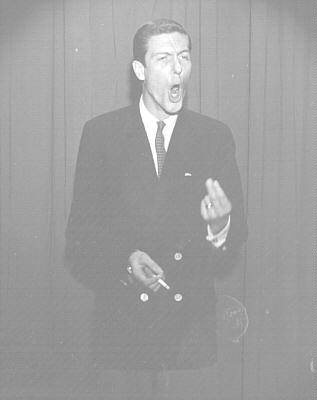 Dick VanDyke had been a stand-up comic on the playboy circuit. So was his banjo-playing brother, Jerry VanDyke. Dick became a staff announcer at Ch. 6 and soon had his own daily 15 minute comedy show. He was soon noticed by some entertainment moguls and was enticed to leave New Orleans and WDSU-TV. We can only wonder what happened to him after he left.



Phil Gordon

Another of New Orleans local musicians, Phil Gordon entertained the city's TV viewers with his own 15 minute program.



Leon Kelner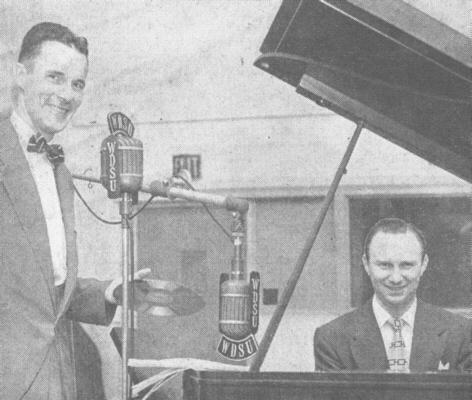 Featured in the Fountain Lounge and the Blue Room of the Roosevelt (now the Fairmont) Hotel, Leon Kelner's piano stylings were a favorite TV musical show in the 50s. The announcer on the show was Bob Hamilton, who later dropped the name "Hamilton" in favor of his real Name, Bob Howard. Bob also was co-host, with Vera Massey, for some time on the Ch.6 "Our House" program. He was an extremely popular DJ at 1280 on the radio dial, WDSU AM.



Maggie Brooks - "Maggie and Me Snake"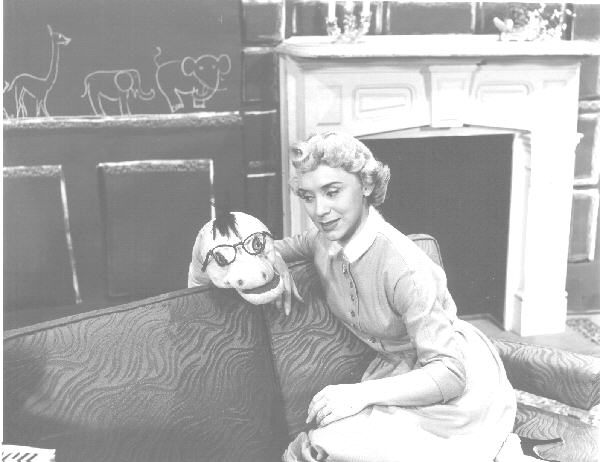 Maggie did the singing and me snake did the comedy. The voice of the wise-cracking Me Snake was provided by stand-up comedian Frankie Ray. Frankie and his partner, Shecky Green, owned the French Quarter lounge "Shay When" which was located just off Bourbon Street across from Leon Prima's "500 Club". At this time, there are no pictures of Frankie and Shecky. Both of them left New Orleans to try their luck in Hollywood. Lady Luck went with them because both of them were soon featured with Vic Morrow in the ABC-TV "Combat" series.

Maggie treated viewers to her song stylings despite interference by Me Snake. She's shown below singing with the Paul Guma Trio. The group featured Paul Guma on guitar, Johnny Senac on bass, and WDSU-TV Music Director on piano.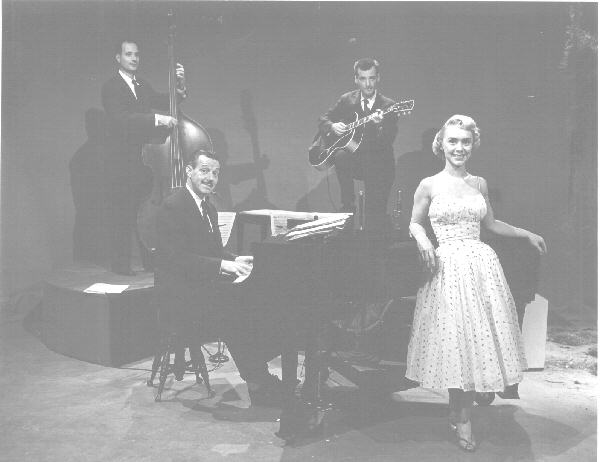 Jack Alexander




Jack Alexander held down an 8 hour booth announcer shift as well as performing in commercials and hosting live programs.



Ken Scott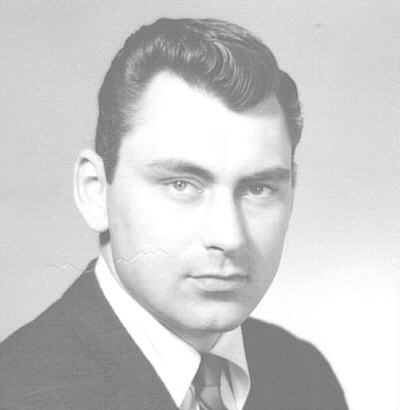 Ken Scott was another fine announcer who handled booth announcing chores as well as hosting programs and voicing and acting in commercials. Ken left WDSU-TV to find fame and fortune in Hollywood. He starred in "The Three Faces of Eve" almost as soon as he arrived on the West Coast. While in Japan some time later, he was injured when a prop gun firing blanks shot some material from the blank shell into his face. The gun was fired, as part of the action in the film, by Edmund O'Brian. Ken manage to survive the accident and went on ro make several more feature films.



Dick Bruce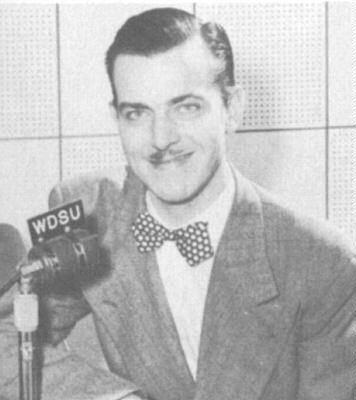 Dick Bruce was the midnight 'till dawn DJ on WDSU radio in the Monteleone Hotel. He made infrequent appearances on Channel 6. He left WDSU when ABC Radio) tapped him to be the CBS Arthur Godfrey show competition. Instead of taking the gig at the compensation offered by ABC, he hired an agent and managed to talk himself out of the job. NBC wanted WWL's Bob Poole for the same reason, but some how the "Old Redhead" managed to go on without competition. He returned to New Orleans and established an ad-agency with Chris Joslyn, an association that didn't last very long. Bruce married one of the Ettringer (owner of McKenzie Bakeries) girls and became media spokesman for the bakery. His television appearances were marked by his shoving a Kenzie confection into his mouth. A style of commercial which, thankfully, didn't catch on and disappeared when Bruce passed on.



Joe Fribley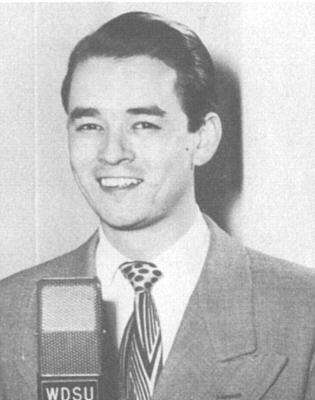 Joe Fribley was another of the radio announcers who sometimes made an appearance on WDSU-TV. Very popular with the ladies of the radio and television audiences, Joe was referred to as "the handsome Joe Fribley" in station printed publicity presentations.



*Roger Wolfe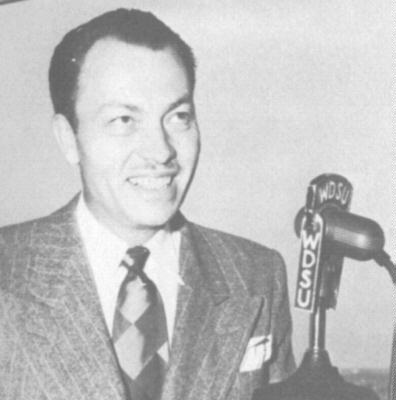 His deep and melodic voice made Roger Wolfe a favorite of both radio and television audiences. Roger was WDSU's Jazz and Turf authority. His other great love was Dixieland music. He hosted radio and television programs featuring the city's Dixieland greats. At the Fair Grounds in New Orleans, Roger, in the overcoat in the picture below, called the races standing next to the WDSU-TV camera on the roof of the clubhouse.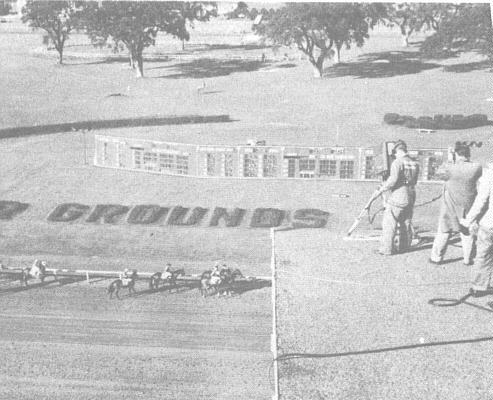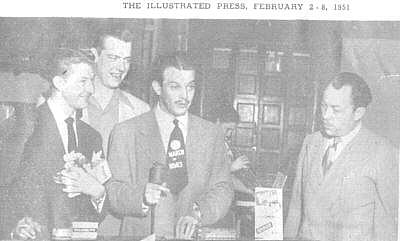 Orchestra leader Johnny Long, on the left in the above picture, is interviewed by three WDSU announcers for Woody Leafer's daily "Big 6 On Channel 6" program. Long and his orchestra were appearing at the Hawaiian Blue Room of the Roosevelt Hotel. He was visiting the WDSU radio studio for an interview with Dick Bruce and Roger Wolfe on radio. Woody brought all of them next door to the TV studios to appear with him on his afternoon program (3PM Mon. through Friday).




GO TO WDSU-TV ON AIR Page 7

RETURN TO WDSU-TV ON AIR Page 5

GO TO WDSU-TV ON AIR Page 1
GO TO WDSU-TV ON AIR Page 2
GO TO WDSU-TV ON AIR Page 3
GO TO WDSU-TV ON AIR Page 4

GO TO WDSU-TV PERSONNEL Page 1
GO TO WDSU-TV PERSONNEL Page 2

GO TO WDSU Page 1
GO TO WDSU Page 2
GO TO WDSU Page 3
GO TO WDSU Page 4

GO TO WDSU-TV MEMBERS OF THE GNOBA HALL OF FAME

RETURN TO BROADCAST ARTS MUSEUM

For more New Orleans radio and television memories:
GO TO "NEW ORLEANS RADIO AND TV SHRINE"